Southern Lawyers Insurance Program speaks at Breakfast of Champions
On February 16, 2017, Aubrey Smith and Ben Parks of Southern Lawyers Insurance Program spoke at the second Chandler Law Breakfast of Champions seminar. The breakfast seminar was hosted by Elizabeth Gallo Court Reporting. The seminar was attended by lawyers from a wide variety of practice areas, including personal injury (plaintiff and defense), professional liability (plaintiff and defense), workers compensation (plaintiff and defense), family law, and estate planning. Mr. Smith and Mr. Parks discussed their proactive approach to the claims handling process, what lawyers should do when they get a claim, what types of coverages are available to lawyers, and specific insurance policy provisions that lawyers should look for when applying for or renewing their professional liability insurance coverage. Chandler Law provided breakfast.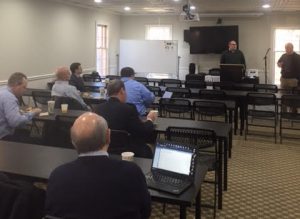 Chandler Law plans to continue hosting the Breakfast of Champions CLE seminars quarterly. Space is limited and the invitation list is targeted to provide for a wide range of practice areas and fields, to promote discussion and professional networking at the seminars. If you would like to attend, or have suggestions or requests for seminar topics, please let us know.
Chandler Law Breakfast of Champions CLE Seminars
[wysija_form id="2″]